December 20, 2018
Dear HomeCare readers,
We thank you for your readership, participation and dedication this year, and we look forward to serving you in 2019. With this issue, we'll be taking a short break from newsletter publication, but we will see you bright and early Jan. 3. In the meantime, if you have not already signed up for Laurie Orlov's upcoming webinar Thursday, Jan. 24, 2019, at 1 p.m. EST, please take a moment and sign up here. This webinar promises to be chock-full of information about the latest in technology-enabled homecare.

Peace to you and yours this holiday season,
The HomeCare Team

PS: We have several news items and features below, so please keep reading.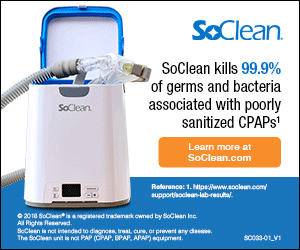 Best of HomeCare Magazine: Spirit of Giving
Some say there's increasing need for charitable activity in homecare as reimbursement allowables continue to shrink and the cost of care and equipment rises. The December 2018 issue of HomeCare magazine shares the stories of those giving the gift of mobility.
New Policy in Progress: Competitive Bidding
Policy decisions are happening now, and more are on the way for the DMEPOS competitive bidding program. The latest HomeCare podcast features Cara Bachenheimer explaining the CPI update, why and when lead item pricing makes the most sense and new directions for DMEPOS product categories. Listen and learn.
Share this newsletter with a friend or colleague:
Technology-Enabled HomeCare in the 21st Century
January 24, 2019 at 1:00 p.m. Eastern Time
Learn about the current status of these technology offerings and how to make them more accessible, functional and available to all.
No cost to registrants
Understanding Your Cost to Serve
Each of the moving parts of your business comes at a cost. All the costs together combine to form your CTS. What is CTS and how is it used to assess profitability of a product line or a business? This white paper from McKesson Medical-Surgical explains.
Industry Insights
Texas Ruling Does Not Affect ACA Coverage—Yet
→
Brightree Acquires Apacheta Corporation
→
Another Acquisition for WellSky
→
GF Health Products Opens Global Headquarters
→
Status of CRT Exemption from Competitive Bidding
→
Medicare Fee Schedule Inflation Adjustments Announced
→
OASIS-D: 5 Questions Answered
→
New Business Direction for Lifesprk
→
Last Chance for Medtrade SmartSaver Rates
→
More News
→
Subscribe to HomeCare's newsletter to receive news
and industry insights directly to your inbox.
Please note: You may be on other email lists and may continue to receive messages not related to HomeCare Thursday.
Unsubscribe from other lists individually. The reply-to mailbox is not monitored.

Our email practices are designed to comply with the EU's General Data Protection Regulation (GDPR) and other privacy laws around the world. Read about HomeCare's data privacy policy online.